Character Information
Name : Raven Von Wolfe
Gender : Male
Surface Age : 749
Visual Age : Mid 20's to early 30's
Appearance :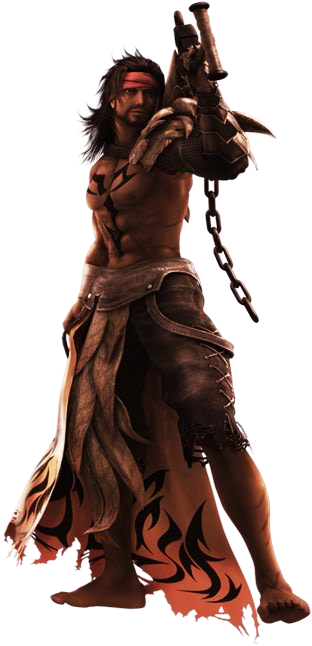 Personality : Violent at times, he can also be conserved, ruthless, or uncaring. Much of this is contributes to his paranoia of people. Not one to care if feelings are hurt, if he has any suspicions of someone, nearly nothing will stop him from confirming them. Sadly, his attitude has earned him no friends or stable allies.
History : Growing up in a war torn Soul Society, he was no different than any of the others that he had known except for the fact that he seemed to be the only one who could almost instantly analyze a situation and predict the outcome to near perfection. Another major thing in Raven's history is that he was the second Captain to ever take over the 11th squad.
Clan : Vizard
Rank :(Unknown)
Strengths : While brute force is his strong point, he has no particular interest in the use of kidou. The reason behind this may be due to his theory that if you apply enough force and riatsu, anything can break.
Weaknesses : As stated, Raven cannot use kidou. Also, he is known to drink heavily.
Reiatsu Color : Red.
Mask Duration : 47 minutes, 8 seconds.
Mask form: While his mask has yet to be revealed, it is said to take on the form of a demon wolf with markings only on the right side.
Zanpakutou Information
Zanpakutou Name : N/A
Zanpakutou Command : N/A
Inner World : N/A
Zanpakutou Spirit : N/A
Shikai Appearance :
Shikai Abilities :
Raven doesn't know the name of his sword, nor can he use his bankai as a result. In addition, he never uses kidō and rarely uses flash steps. However, he more than makes up for his faults in sheer power. His spiritual pressure is such that, even when wearing the energy-sealing headband, Raven can fight on-par with and defeat other captain-level opponents, even when they release their zanpakuto in either shikai or bankai form. Its concentration is so great that it acts like armor against weaker opponents.
Bankai Name : N/A
Bankai Appearance :N/A
Bankai Abilities :N/A

________________________
https://www.youtube.com/watch?v=7kcErNWtw1o

www.finalfantasystories.forumotion.com